Shani Hussain
Clinical Supervisor & Behaviour Analyst
Shani is a compassionate and light-hearted clinician whose unconventional approach to therapy helps clients make lasting and meaningful changes to their lives. By fusing his specialized knowledge and experience with his adept problem-solving skills, Shani has helped individuals, couples, and families facing a wide spectrum of challenges in both the USA and Canada. 
As the Clinical Supervisor at Hatch-Me, Shani is devoted to supporting all clients in any way possible and has a knack for helping others ignite hope, even if they feel all is lost. As a minority and proud member of the LGBT+ community, Shani is no stranger to struggles and will proudly be your ally on this journey. 
Master of Science in Applied Behavioural Analysis
Anger Management
Anxiety
Autism
Behavioural Issues
Conflict Resolution
Depression
Eating Disorders
Family Therapy
Grief
LGBT+ Struggles
Life Transitions
Obsessive-Compulsive Disorder
Parent Coaching
Porn Addiction
Relationship Counselling
Sex Therapy
Applied Behavioural Analysis
Cognitive Behavioural Therapy (CBT)
Compassion Focused Therapy
Family & Marital Counselling
Humanistic
Mindfulness-Based Cognitive Therapy
Solution Focused Brief Therapy (SFBT)
Loves Magic the Gathering, Pokémon, and Anime
Enjoys creative writing
Has a pet Dumeril's Boa
Has a black belt in Tae Kwon Do
Tala Barrage
Registered Psychotherapist
 When it comes to long term wellness, Tala strongly believes that mental and physical health go hand in hand. As a Registered Psychotherapist and certified yoga teacher, she trusts in the benefits that physical movement and mindfulness practices can offer; not only for personal healing and growth, but also for stress reduction, emotional regulation and enhanced mental health.
Tala is equipped to help clients facing a range of issues in their daily lives and incorporates a variety of mindfulness-based approaches and somatic techniques in her sessions. Tala's consideration and care for her clients along with her integrated counselling approach are what make her a wonderful psychotherapist.
Master of Arts in Counselling Psychology
Anxiety
Chronic Pain
Depression
Domestic Abuse
Emotional Disturbance
Grief
Parenting
Relationship Issues
Self-Esteem
Insomnia
Suicidal Ideation
Trauma & PTSD
Women's Issues
Acceptance & Commitment Therapy
Attachment-Based Therapy
Cognitive Behavioural Therapy (CBT)
Dialectical Behaviour Therapy
Mindfulness-Based Cognitive Therapy
Rapid Resolution Therapy
Solution Focused Brief Therapy (SFBT)
Somatic Therapy
Can speak English, Arabic, and French fluently
Enjoys painting and being out in nature
Lived in 7 cities
Is great at baking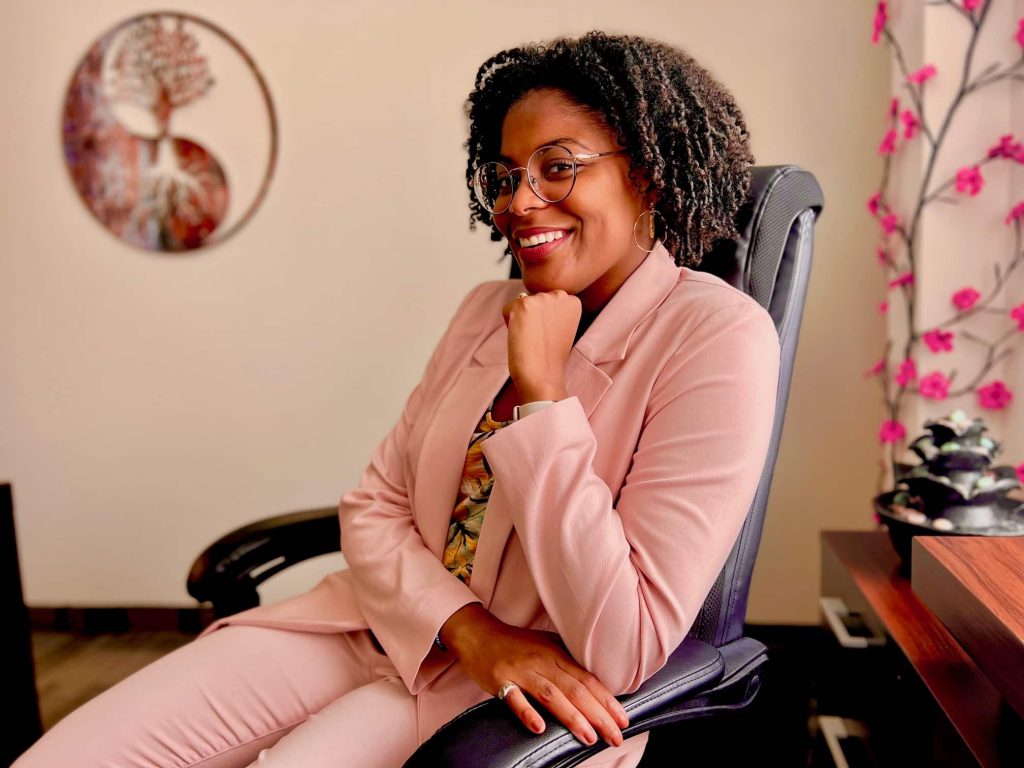 Rayya Brown
Registered Social Worker
As a therapist, Rayya has the perfect blend of knowledge, passion, and humour. She has experience supporting individuals and groups in post-secondary and community environments on various topics such as anxiety, life transitions, building healthy relationships, and trauma. By incorporating the perfect balance of resilience and growth in her counselling sessions, Rayya establishes herself as a supportive and powerful agent of change.

Rayya's goal as a therapist is to help her clients reach new points of self-awareness and reflectivity. By prioritizing emotional intelligence, she is able to view the world with a humanistic lens and enrich her clients with strength-based strategies. If you're ready to strengthen your heart and your mind, Rayya is the perfect therapist for the job.
Master of Social Work
Anxiety
Chronic Illness and Pain
Depression
Abortion and Miscarriage
Women's Issues
Sexual Violence and Abuse
Trauma and PTSD
Stress Management
Self-Esteem
Racial and Cultural Identity
Career Guidance
Self-Esteem
Family Dynamics
Relationship Counselling
Coping Skills
Cognitive Behavioural Therapy
Solution Focused-Brief Therapy
Motivational Interviewing
Attachment-Based Therapy
Culturally sensitive therapy
Dialectical Behavioural Therapy
Emotional Focused Therapy
Humanistic
Trauma Focused Approaches
Has two pet parrots
She accidentally gave herself frostbite
Is a former drama kid and used to model and act professionally
Her ability to binge-watch shows could likely be considered a superpower
Tatum Bedard
Registered Psychotherapist (Qualifying)
Tatum offers a judgment-free and safe therapeutic space where conversations are lead with compassion and empathy. Whatever the concern or reason for reaching for support, her priority is creating a safe and trusting relationship with her clients; Tatum believes that this is the bedrock of effective therapy.

Tatum is able to help her clients heal from their past and allows them to resolve present-day issues by equipping them with the tools, resources, and individual strength needed to reach therapeutic goals. As a social justice advocate, she is dedicated to cultural affirming approaches and anti-oppressive practice. Tatum's care and dedication to her clients make her an exceptional choice as a psychotherapist.
Master of Arts in Counselling Psychology
Anxiety
Depression
Emotional Disturbance
Gender & Sexuality
Grief
Relationship Issues
Self-Esteem
Stress
Suicidal Ideation
Acceptance & Commitment Therapy
Client-Centered & Trauma Informed
Cognitive Behavioural Therapy (CBT)
Dialectical Behaviour Therapy
Narrative Therapy
Solution Focused Brief Therapy (SFBT)
Travelled to 6 continents
Loves running and kickboxing
Adrenaline seeker (bungee jumped, paraglided, scuba and sky dived)
Would win a Drag Race and The Office trivia night
Yasmine El-Garhy
Registered Psychotherapist (Qualifying)
Yasmine offers a safe and judgment-free space for clients to find support, healing, and improved quality of life. Her experiences living in different multicultural cities has helped enhance her insight into the lives of others. Yasmine uses her bio-psycho-social lens to gather essential information from her clients, which then helps her create effective and individualized treatment plans. 
By exploring the past and targeting the root causes of present-day struggles, Yasmine is able to help her clients make transformative changes through her guidance. Whether it's with her humour and charm, or her strength as a psychotherapist, Yasmine can bring light and positivity to your world.
Master of Arts in Counselling Psychology (Graduating Soon)
Addiction
Antisocial Personality
Anxiety
Career Guidance
Drug Abuse
Eating Disorders
Grief
Racial Identity
Self-Esteem
Spirituality
Stress
Weight Loss
Cognitive Behavioural Therapy (CBT)
Cognitive Processing Therapy
Emotionally Focused Therapy
Humanistic
Narrative Therapy
Solution Focused Brief Therapy (SFBT)
Does kickboxing
Loves cooking
Is from Egypt
Enjoys acting and performing in theater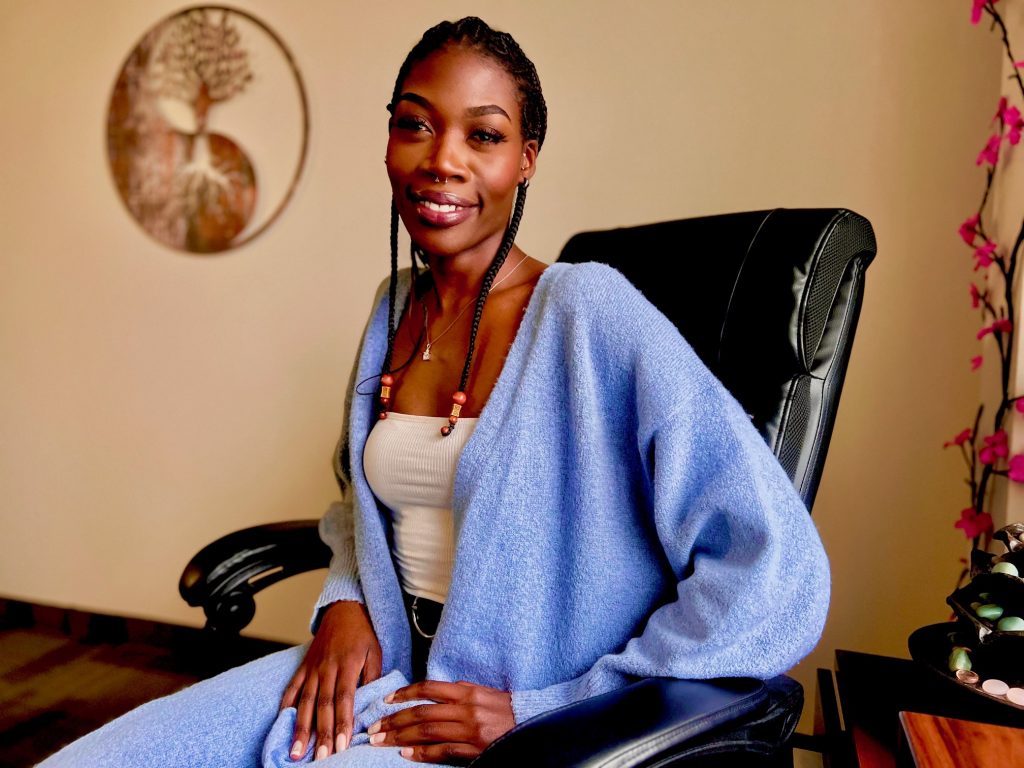 Stephanie M.
Cuddle Therapist
Stephanie's passion has always been connecting with others and healing them on an emotional and spiritual level.

As a cuddle therapist she is committed to helping her clients heal and grow through talk and touch.

With her warmth and natural ability to create a relaxed and

judgment

-free space, Stephanie is able to create the perfect therapeutic environment for cuddle therapy.
For those of us that are lacking attention, touch, or are struggling with mental health, cuddles with Stephanie can heal on many levels.

With her mastery of the art of affection and her ability to

brighten

any room she's in, Stephanie is an exemplary cuddle therapist. 
Has a PhD in Cuddle Science
Giving heckin' good cuddles
Enjoys painting on large canvases

Is a skilled pool player
Loves roller skating
Can recreate sound effects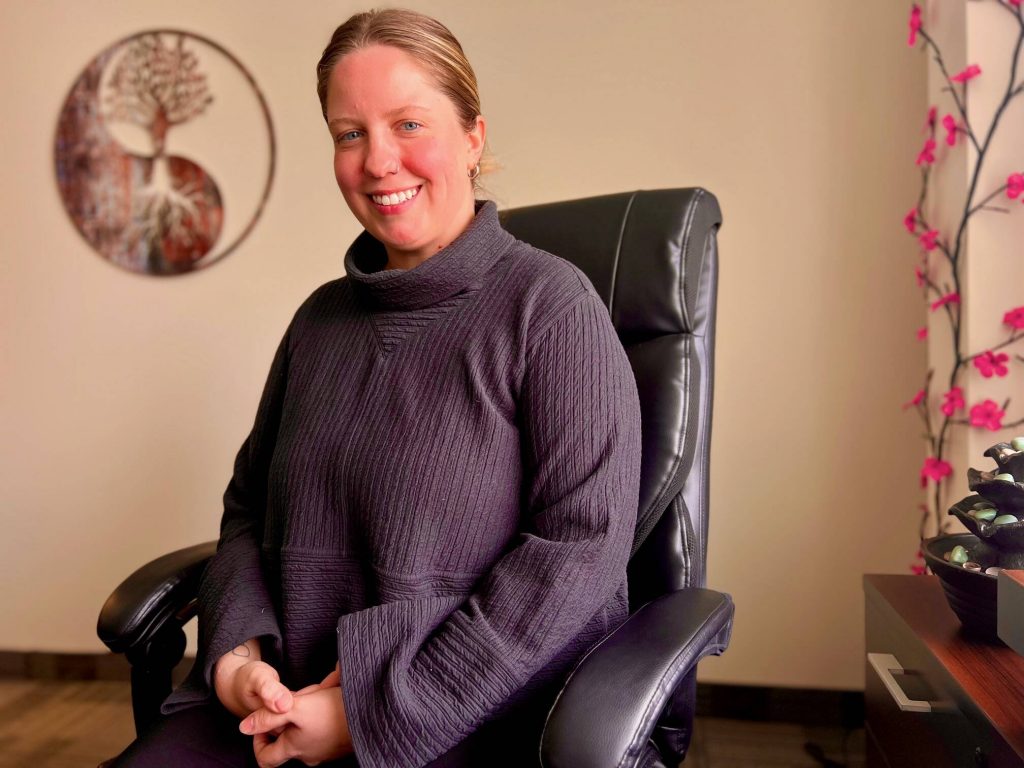 Cassidy B.
Cuddle Therapist
Cassidy is a deeply empathetic nurturer who strives to heal her clients at their core. She uses an anti-oppressive lens and is dedicated to ensuring that each client feels seen, safe, and comfortable with unconditional positive regard. Cassidy became a cuddle therapist to help quench our touch-starved society and fulfill this science-backed fundamental need.
By using safe, platonic, and consensual affection, Cassidy fosters a hybrid environment that allows her clients to feel both vulnerable and secure. If you're on a healing journey and wish to restore

trust and esteem through the compassionate touch of a

 

professional

, then Cassidy is the perfect cuddle therapist for you.
Making you feel warm and fuzzy both inside and out
Cannot get a good night's sleep without her teddy bear

Can read a birth chart
Has had not only dogs and cats as pets, but also a snake and a hedgehog
She is at peak happiness when reading on a beach
Kevin Kameoka
Office Administrator
Kevin's organization skills and determination are essential for keeping Hatch-Me in harmony. He works alongside Shani to ensure that the team of Psychotherapists, Social Workers, and Cuddle Therapists has everything it needs.
Kevin's high-functioning autism helps him bring exemplary organization skills and a unique perspective to Hatch-Me. Whether it's helping with website design or keeping operations running smoothly, Kevin is an integral part of our team. 
Game Development & Design Degree
An organized office is a happy office
Is one of Canada's top PUMP IT UP players
Has a fraternal twin brother
Can do a backflip and other acrobatic stunts
Enjoys rock climbing and bouldering
When you're in a big city, it's hard to find services that are incredibly professional, custom tailored to your needs AND leave you feeling hopeful. Hatch-Me's approach to their services are heart-centred and personable, with exceptionally prompt and clear communication.Cassidy is a gem. Walk in with some trepidation and walk out feeling so very loved and cared for. My first ever cuddle session healed layers of my heart, gave me space to speak my truth about past hurt, and was welcomed by a compassionate and empathetic soul who gave me the confidence to continue healing myself. I am deeply grateful, thank you.
I felt supported right from the initial screening phone call. I broke down and the gentleman helped me feel secure and then helped me choose the best therapist suited for me on their team. I felt completely hopeless and thought my relationship was going to end. I'm now 5 sessions in and my love life and personal life have improved significantly. I love how the office is decorated. Love the compassion from everyone I've spoken to from Hatch-Me. I've already recommended 3 friends and will keep them coming. Thanks for everything you guys!
Have been taking couples session with Shani and I have to say that he is an amazing therapist. He genuinely cares for his patients and is very easily reachable. He also provides exceptional support. I would highly recommend him. 🙂
Shani is one of the most genuine, empathic, kind soul that I have the pleasure working with. He was able to meet me where I am at as a individual and assisted me when I was having a rough few weeks (mentally). I still remember how he told me to incorporated using lemon or lime to distract me so I was able to get back into my baseline behavior.
Extremely professional,empathetic ,and caring therapist!!!
I am a huge supporter of Hatch-Me, I have worked with Shani in the past for many years and I have never felt more comfortable and understood. I would highly recommend him to anyone who has contemplated therapy and doesn't know where to start.
AFUA'S HUB (Mirekux)
2022-12-09
Such an empathetic compassionate and understanding soul. I wish everyone could get a chance to work with Shani! Shani was made to be working in the therapy and counselling line of work and it really shows. I definitely recommend!
I've been working with Shani for a year. He's highly empathetic and very understanding. He has expertise in behavioural analysis and thus providing therapies to improve mental well-being. I highly recommend Hatch Me therapy
The most compassionate and understanding human being you'd ever come across. Shani's passion to help people is inspiring and he has always guided me in a positive direction. I look forward to our sessions because he brightens up my entire day. Highly recommend booking a session(s) with him! His soul is made of magic and he genuinely cares for the well-being of his clients.
Shani has been nothing short of phenomenal with his therapy services. I've had my fair share of therapists over the years and quite frankly I've never left an appointment as content as I have with Shani. He has helped me dig into & repair deep-rooted childhood issues that I never really expected to ever resurface or even remember for that matter. As easy as he was able to open that locked door, he was able to help me confront what was behind the door and worked with me until I was able to be okay with that door open. He didn't just close the door and move on, he unlocked it and walked side by side with me right through it, and for that I am grateful. Even in emergency situations where I just needed to talk briefly, he was there to help in no time. Session after session, year after year, it seemed as if some therapists cared more about a paycheck than my or anyones mental wellbeing for that matter; however, Shani really showed me what it is to be a therapist & more importantly how much love & care that there is out in the world.